How to find us
Staatsoperette Dresden | Kraftwerk Mitte 1
01067 Dresden | Germany

The Dresden State Operetta is located on site of Kraftwerk Mitte, the western part of the city centre. Since December 2016, the former site of the cogeneration plant is inhabited by Dresden's new centre for art, culture and creativity, just 15 minutes walking distance away of the well-known baroque city centre.

Staatsoperette Dresden
Kraftwerk Mitte 1
01067 Dresden
Germany
Arrival with public transportation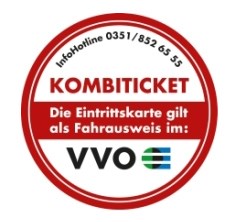 Tickets for the Dresden State Operetta are effectively tickets for all means of local transport of the VVO-area, starting at 4 hours before the event until 4 AM of the following day.
Thanks to the great location, the Dresden State Operetta in the centre of Dresden is very easy to reach. A number of tram and bus lines are located in the immediate vicinity. Regional trains to and from Bischofswerda, Bautzen, Görlitz, Zitta, Großenhain, Hoyerswerda, Cottbus, Riesa, Leipzig, Kamens as well as the train lines S1 and S2. These stop at the station Freiberger Straße. Both train stations can be reached by foot. You can arrive at the new venue comfortably with the following means of local transportation (walk of about 500 m):
Schweriner Straße: Bus 94 / Tram 1 and 2
Schwimmhalle Freiberger Platz:Tram 12
Freiberger Straße: Tram 7, 10 and 12 / Train
Bahnhof Mitte: Bus 94 / Train 1, 2, 6 and 10 / Train
There are numerous free parking locations available in the immediate vicinity. We recommend the parking lot »Kraftwerk Mitte« in the triangular junction, only a few minutes away on foot. Access can be found via Löbtauer Straße, coming from the south. Among 300 parking spots you can also find a charging point. Parking costs 0.50€ per hour. Parking with the event ticket is even more comfortable. You pay for your ticket directly when you arrive at the parking machine. For 3€, you can park for 8 hours and won't have to queue at the parking machine after the show. You can leave the parking lot right away, inserting the paid-for parking ticket into the terminal when you leave.

Parking lot address for Navigation systems: Löbtauer Str. 21, 01067 Dresden

Further parking spaces are available in the car park of the World Trade Center in the Freiberger Straße as well as the Parkhaus Mitte. Parking spaces for the disabled are available in the immediate vicinity, with access via Alfred-Althus-Straße and on the Wettiner Platz.